£300m plan to develop land around Edinburgh Airport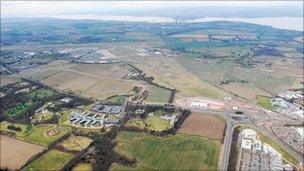 A plan to create a "world class" business and transport hub on land around Edinburgh Airport has been unveiled.
The £300m proposal would transform 85 hectares of land lying between the airport and RBS headquarters.
The "International Business Gateway" will include offices, hotel and conference facilities and an arena.
The consortium behind the plan has claimed it could generate up to £4.4bn for the Scottish economy.
It said 3,600 jobs could be created within 20 years.
The implementation plan, containing details of the development, said the site west of Edinburgh offers "huge long-term potential" which is "underpinned " by its proximity to the airport and the motorway as well as a new railway station and possibly tram stops.
Edinburgh Airport has recently undergone a £40m expansion as part of a 10-year development plan and has seen a sharp increase in passenger numbers in recent years.
The developers said that "realising" the airport's growth potential would help "maximise the competitiveness of Edinburgh and Scotland on the world stage".
The scheme also takes in the Royal Highland Showground which has already announced a £30m upgrade which includes two new hotels.
However the whole scheme depends on investment.
A number of organisations have teamed up to develop the site.
Called the Edinburgh International Development Partnership it includes Scottish Enterprise, Edinburgh Airport, the Royal Highland Agricultural Society, as well as Edinburgh City Council and the Scottish government.
The Scottish government has backed the plans.
However, Finance Secretary John Swinney warned: "Whilst this is not a commitment to future funding from the Scottish government, the partnership approach to preparing the implementation plan is a positive example of what can be achieved to facilitate long-term growth despite the difficult economic climate."
Lena Wilson, chief executive of Scottish Enterprise, said the planned development area was "one of Scotland's most important economic development zones."
She added: "We have been working with our partners to facilitate an implementation plan that will help pave the way for the transformation of the west of Edinburgh into one of Scotland's key centres of commerce and connectivity."
Related Internet Links
The BBC is not responsible for the content of external sites.