UK oil and gas drilling falls 52% in second quarter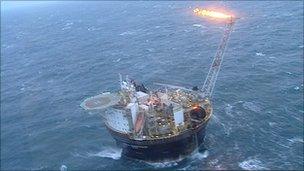 Drilling for oil and gas in British waters fell sharply in the second quarter of this year, according to industry figures.
Exploration for new reserves was down by more than 50% when compared with April to June of last year.
It reached the lowest level in that quarter for nine years.
That was despite a buoyant oil price encouraging more drilling activity in Norwegian waters and consistent levels off the coast of the Netherlands.
Industry analysts said it was too early to blame the shock increase in oil industry taxation, which was announced in the Budget in March, but it had added to uncertainty to investment in UK drilling.
Deloitte, the business consultancy, has assessed oil and gas industry figures and said the second quarter figure was 52% below Q2 in 2010.
Over the first six months of the year, drilling was down 43% on 2010, with only 20 exploration and appraisal wells started, or 'spudded', from January to June, compared with 35 at the start of last year.
The second quarter figure was up on the first quarter, but that is normal for the industry.
Deloitte's analysts said the number of wells was small, but that activity was lower than was expected with the oil price above $100 per barrel.
Analyst Graham Sadler said: "The reduction in activity is concerning, and is likely to be attributable to a combination of issues including a lack of business confidence in the market generally, over recent months, as well as a possible initial reaction to the UK's shifting fiscal regime.
"Although it is difficult to pinpoint how quickly companies would have been able to change drilling plans, as a result of the tax changes announced in this year's Budget, it's quite likely that the UK fiscal regime is now being viewed as unstable and, therefore, a less attractive place to invest."
Chancellor George Osborne stunned the sector with a Budget announcement of a £2bn per year tax increase, to pay for a cut in petrol duty.
Facing strong criticism from the industry, the Treasury has since announced an extended tax allowance for marginal fields worth an expected £50m each year.
Mr Sadler said that any impact from the tax increase could be expected to become clearer 12 to 18 months after the tax announcement.
Related Internet Links
The BBC is not responsible for the content of external sites.