Scottish jobs market improves again, bank report shows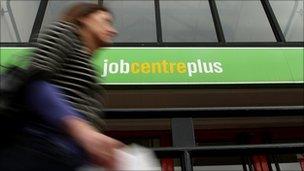 The Scottish jobs market continued to improve in June, but at a slower pace, according to a Bank of Scotland report.
The figures also showed that the Scottish labour market had now outperformed the UK as a whole for the third month in a row this year.
More people were also getting work and recruitment agencies reported a continued rise in demand for new staff.
Dundee saw the biggest rise in workers securing a job while Edinburgh recorded the sharpest hikes in wages.
However, across the country, the rate of growth in vacancies for permanent and temporary job was the slowest for a number of months.
Donald MacRae, chief economist at Bank of Scotland, said: "The Scottish labour market improved in June, albeit at a slower rate than in previous months, providing further evidence of a slowing of the economy in quarter two of this year.
"Recruitment agencies reported a continuing rise in demand for new staff and a higher number of people securing jobs.
"Permanent salaries increased for the sixth consecutive month but at a slower pace than May."
The bank's Labour Market Barometer, designed to provide a snapshot of labour market conditions, was measured at 55.2 in June, down from 56.5 in May.
But the figure was higher than the UK average and signalled a solid improvement in Scotland's job market, up from 49.4 in June last year.
The barometer is calculated by measuring demand for staff, employment, availability for work and pay.
The report also showed the number of permanent positions increased further in June, although the latest rise was the slowest in six months.
The IT and computing sector posted the fastest increase in available job roles and the hourly pay for temporary workers rose at the fastest rate since December 2010.
Finance and Employment Secretary John Swinney said: "The report for June is the third month in a row that the Scottish labour market has outperformed the UK as a whole - reflecting the labour market figures published last week showing employment in Scotland rising and unemployment falling at seven-times the rate as in the rest of the UK.
"But the survey also shows that there can be absolutely no grounds for complacency.
"More needs to be done to support jobs, secure investment and boost economic activity across Scotland - and the report reinforces the need for a Plan B or flexibility from the UK government in order to strengthen growth and recovery."
Compiled by Markit, the report is based on a monthly survey of more than 100 recruitment and employment consultants.
Related Internet Links
The BBC is not responsible for the content of external sites.