Bookmaker Scotbet bought out by management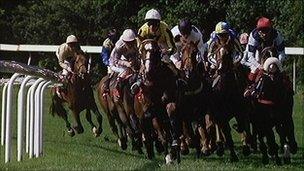 Scotland's largest independent bookmaker has been bought out by its management, the BBC understands.
Scotbet had been on the market for about 12 months, after its Edinburgh-based owner, Festival Group, sustained serious losses in the downturn.
The existing management has bought out the 65 outlets in Scotland and its online site but former chief executive Kenny Waugh will no longer play a role.
The value of the deal, financed by Clydesdale Bank, has not been revealed.
Incoming chairman John Heaton said the new owners intended to grow the business, particularly its online betting.
Mr Heaton, a consultant in the gambling business, said the buy-out of Scotbet - the trading name of Morrisons Bookmaker - had been planned for nearly a year.
He said it remained a good investment, despite competition from the three dominant high street betting shop operators - William Hill, Ladbrokes and Coral - and the shift of online gambling to lower-tax offshore businesses.
He added: "There are a lot of offshore businesses which are very successful, but this company is licensed by the Gambling Commission with 65 high street outlets, and it's a good time to expand the online brand.
"This is a small, well-run group which is profitable and it's a good opportunity to expand."
Related Internet Links
The BBC is not responsible for the content of external sites.