End in sight for Cairn India deal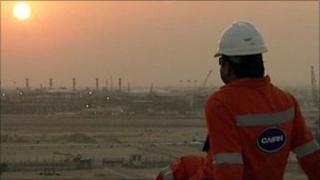 An end is in sight in the long-running dispute over a major oil deal in which Cairn Energy has faced delay by the Indian government.
The Edinburgh-based oil explorer is taking the issue to shareholders of its Indian offshoot.
Cairn is expected to accept a sharp cut in the value of its oil fields in Rajasthan.
The company has been trying to sell a controlling stake in Cairn India for almost a year.
But the sale to metals company Vedanta has been stalled by the Indian government.
Last month, cabinet ministers in Delhi decided to change the terms under which Cairn Energy was encouraged to explore for oil in the Rajasthani desert.
Having found oil, that change is calculated by Cairn to reduce its value by £176m ($289m)
Cairn India, the spin-off company which is now 52% owned by Cairn Energy in Scotland, has warned the Indian government that a lack of co-operation in developing the vast Mangala field in Rajasthan is harming the national interest, by forcing higher energy imports.
The Oil and Natural Gas Corporation (ONGC), majority owned by the Indian government, has been pushing to reduce its liability to pay all the royalties on oil production, as previously agreed.
The Indian government has ruled those royalties should now be deducted before calculating Cairn India's profits.
While the dispute has continued, the flow from Mangala has been limited to 125,000 barrels per day, when it could be increased to 240,000 barrels.
Cairn India is now to ballot shareholders.
And as Cairn Energy and Vedanta together control 80% of the company, approval of the changed terms is expected.
Rahul Dhir, chief executive of Cairn India, said: "The Rajasthan fields have significant growth potential and an increase in production from this world class asset will enhance the energy security of our nation.
"The optimal development of this resource will only be possible with the active support of our joint venture partner, ONGC and the Government of India".
The quarterly update on Cairn India reflects the Mangala oil field coming on stream, with revenue since the quarter to June 2010 up by 342% to £506m ($830m), with profit after tax up 869% to £384 ($610m).
Cairn India is also increasing its drilling activity in Sri Lankan waters.