Cairn Energy setback in Greenland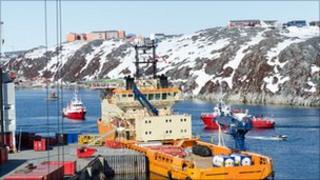 Edinburgh exploration firm Cairn Energy has announced it is to abandon one of its wells in Greenland after failing to find oil.
The company said it had decided to suspend drilling on another because it wants to use that rig to explore at another location.
However Cairn said it was still "encouraged" by indications of oil-prone rocks across the Arctic.
The company planned to drill four wells this year costing about £400m.
Simon Thomson, Cairn's chief executive, said: "The exploration challenge remains to find the reservoir sands. We continue to be optimistic about the remainder of our 2011 four-well, multi-basin exploration programme offshore Greenland."
Cairn's focus has moved to Greenland since it reduced its stake in its Indian unit.
However, its activities in Greenland have been disrupted by environmental protesters.
Cairn won a court order banning Greenpeace protesters from approaching its drilling vessels.
More recently about 60 Greenpeace campaigners, many dressed as polar bears, barricaded themselves in at Cairn Energy's offices in Edinburgh.
Because of the harsh weather, Cairn only has a short window in the summer in which to explore in the Arctic.
It decided to suspend work on its AT7-1 exploration well and is using its rig, the Leiv Eriksson, to drill in an area 110 kilometres away from a well it drilled in 2010 and which had oil and gas shows.
The group drilled three exploration wells in 2010 in the Arctic, which experts predict could become the next major oil producing region, with reserves of about 20 billion barrels of oil.
Shares in Cairn have fallen 13% in the last month.