Turbine installer Icon Energy hit by Proven collapse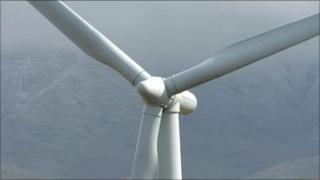 A wind turbine installer has fallen victim to the collapse of small-scale turbine manufacturer Proven Energy.
Icon Energy, based in Milnathort near Kinross, said it had entered voluntary liquidation "as a direct result" of Proven appointing a receiver and ceasing to trade last month.
Ayrshire-based Proven has since been bought by Kingspan Renewables.
Proven went into administration after a defect was identified in its P35-2 model, affecting 500 customers.
The Health and Safety Executive advised customers to stop using the product, although the firm's P7 and P11 models were not affected.
Icon went into voluntary liquidation after losing out to Kingspan in a bid to take over Proven.
In a statement on its website, Icon said: "As you are no doubt aware, a consortium of Icon directors and investors put forward a bid to resurrect Proven Energy and this bid went as far as making it to the last two in the running for the purchase.
"Unfortunately Icon Energy were beaten to the post by a large plc company.
'Minimising losses'
"Icon directors and key staff are in ongoing discussions with the liquidators and are attempting to find a way of securing ongoing employment for all staff and minimising any losses for clients and creditors alike."
Icon said customers who had already paid deposits or made initial payments to Icon "may have the option" to install an alternative wind turbine to the Proven P35-2.
It added the cost would be no greater than the amount quoted on the original contract.
Icon said the Proven P11 and P7 model were unaffected by the technical problems and should be available "in a short number of weeks".
More than 50 jobs were lost at Proven after it went into administration last month. However, 20 jobs were safeguarded when Kingspan bought Proven's business and assets.