Petrofac in Shetland foreign workers row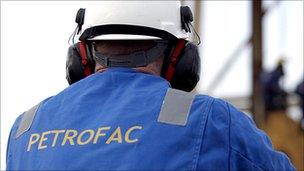 Oil and gas firm Petrofac has strongly denied trade union claims it excluded UK workers from the construction of a £500m gas processing plant on Shetland.
The GMB union said members had reported more than 100 foreign workers had been brought into Sullom Voe by Petrofac.
It claimed unemployed skilled UK workers had been given no opportunity to apply for construction jobs.
But Petrofac denied the claim, saying it had not employed any non-UK labour for the construction of the plant.
GMB said the extension under construction at Sullom Voe had now reached the stage where metal fabrication and pipe workers were being taken on.
GMB general secretary Paul Kenny said: "GMB members in the engineering construction industry have reported to the union that a large number of workers from other parts of the world - over 100 - have been brought into Shetland by Petrofac while skilled workers unemployed in Scotland and the rest of the UK have been given no opportunity to apply for this work.
"There are a large number of highly skilled engineering construction workers unemployed both in Scotland and the rest of the UK.
"They are demanding to know why they have been denied the opportunity to apply for these jobs."
He added: "GMB will require proof that not only is there no discrimination against the indigenous workforce but that workers from overseas are not being exploited by undercutting the agreed rates of pay."
In a statement, Petrofac responded: "Petrofac can confirm that it has not employed any non-UK labour for the engineering and construction of the Shetland gas plant.
"Petrofac intends to commence recruitment of its construction workforce in mid-2012 and is committed to recruiting personnel from across the UK where appropriate.
"GMB's statement is inaccurate and we will address this with them directly."
Aberdeen-based Petrofac was awarded the contract to construct the processing plant by French company Total a year ago.
Gas is expected to start coming in through the new terminal by 2014.
The gas, from fields west of Shetland, will be used to supply customers across the UK.
Related Internet Links
The BBC is not responsible for the content of external sites.