Clyde Blowers buys turbine group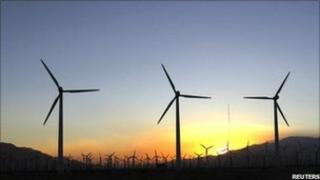 East Kilbride engineering group Clyde Blowers has bought Moventas - a Finnish firm which makes parts for wind turbines - for £85m.
The deal is saving Moventas from bankruptcy.
Chief executive of Clyde Blowers Jim McColl said: "The business will be freed from the shadow of the bankruptcy and the restructuring process that has restrained development of the group."
Moventas employs 1,000 people in 10 countries throughout the world.
Clyde Blowers said the acquisition had been financed with equity investment and "no third party bank debt".
Mr McColl added: "With a debt-free balance sheet and clear strategy for growth in place, we look forward to developing Moventas into a global champion, supporting the needs of its customers in the renewable energy and industrial markets."
McColl added: "Moventas operates some of the most advanced, state-of-the-art manufacturing and test facilities in the world and has an extensive product range.
"It is a leading independent player in the global wind turbine gearbox and drive solutions market with products extending across a wide range of wind turbines, from the kilowatt class up to multi megawatt scale turbines."
Moventas welcomed the deal saying it gave "stability and further development" of its businesses.
Earlier this year Mr McColl told BBC Scotland that he intended to expand operations in Scotland to manufacture and assemble parts for renewable wind turbines.
The chairman and chief executive of Clyde Blowers said he was ready to join the renewable energy boom expected to come to Scotland.
In the summer, Mr McColl sold Clyde Union Pumps - the business where he was once an apprentice - for £750m.