Mortgage lending in Scotland lags UK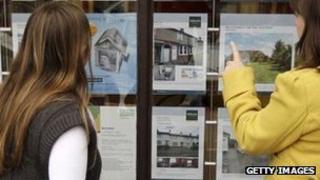 Mortgage lending in Scotland rose in the third quarter - but at a much lower rate than the UK as a whole, according to the latest data released by mortgage lenders.
The Council of Mortgage Lenders (CML) Scotland said 12,400 loans were taken out, which was 900 more than in the previous quarter.
That figure represented a rise of 8% for the period.
In the UK as a whole, lending for house purchase increased by 16%.
Loans to first-time buyers and home movers in Scotland increased in the third quarter.
A total of 4,600 loans worth £429m were advanced to first-time buyers, which was a rise of 7% by volume and 10% by value.
CML Scotland said there were "small improvements" in lending criteria for all Scottish house purchasers in the quarter.
First-time buyers typically borrowed 80% of their property's value, up from 79% in the second quarter - bringing the average loan-to-value ratio in Scotland in line with the UK average.
Home movers borrowed on average slightly less of their property's value from July to September than April to June - 70% compared to 71% - but they spent 8.8% of their income on mortgage interest payments, the lowest since records began in 2005.
A total of 9,600 remortgage loans worth £900m were taken out, a 5% increase on the previous quarter.
CML Scotland policy consultant Kennedy Foster said: "The mortgage market in Scotland is currently stable, albeit at a low level.
"We anticipate growth is likely to remain slow going forward, although welcome developments - such as smaller deposits - have emerged and a Scottish mortgage indemnity scheme for new-build properties is being introduced.
"The uncertain economic outlook and low levels of consumer confidence will likely result in a continuing constrained mortgage market in Scotland, as in the UK in general."