Thousands of new oil and gas jobs expected, says report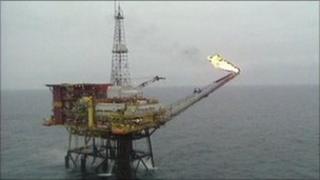 Thousands of new jobs are set to be created in the oil and gas industry, according to a new report.
The Lloyds Bank Corporate Markets report Oil and Gas: Rising Fortunes said 75% of companies could create new posts in the next two years.
And more than a quarter of the 100 sector decision makers questioned said they could recruit more than 500 staff.
The report said 87% reported they were on track for growth in the two-year period.
The greatest barrier to growth was said to be a the lack of a highly-skilled workforce, with 46% of respondents citing a dearth of industry talent as an impediment to growth.
Alasdair Gardner, managing director for Lloyds Bank Corporate Markets in Scotland, said: "The net result of larger contracts and more orders for products and services is more jobs.
"Oil and gas companies already know they will need more capacity to handle the extra business coming their way next year and that is heartening news for the economy and for the jobs market.
"The strategic importance of Aberdeen as an oil and gas centre of excellence should translate into jobs in the north of Scotland, particularly."
'Many guises'
He added: "While market consolidation and technological innovations are creating new opportunities for oil and gas companies at home, emerging markets around the world are now realising their potential - so growth in the sector will come in many guises."
Last month, a report said more than half of oil and gas operators surveyed believe the Budget's £2bn industry tax hike had harmed North Sea investment.
The 15th Aberdeen and Grampian Chamber of Commerce (AGCC) oil and gas survey said confidence and investment were still being dented by the Budget move.
The supplementary tax on North Sea oil production rose from 20% to 32% to fund a cut in UK government fuel duty.