Revamped Scotsman newspaper looks to future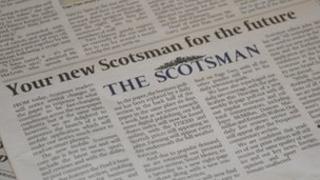 The Scotsman has been revamped as the entire Scottish newspaper industry continues to battle against falling sales and rising costs.
The paper now appears in one complete section without daily pull-outs.
It has also dropped some features such as in-depth daily arts coverage and full listings of share prices.
Last month The Scotsman had a circulation of 39,028 copies compared with 42,829 in November last year. Some 3,500 of these copies were given away.
However, the newspaper recorded a small rise in monthly figures in November.
Traditional rival The Herald has also seen its sales fall badly over the past year from 52,736 in November 2010 to 46,257 last month.
'Perfect storm'
Most newspaper publishers across the UK and beyond have also suffered because of what some see as a perfect storm of falling advertising and sales combined with the rising cost of newsprint.
The problem has lasted for some years and shows few signs of stabilising.
In an article explaining its revamp, The Scotsman said it was a response to "fast-changing conditions across the newspaper industry".
The newspaper will still print arts reviews each day but in-depth articles will appear in a 16-page pull-out on Thursdays.
Editor John McLellan added: "While conditions are undoubtedly hard for the print editions of all newspapers, the fact we are maintaining free access to our website demonstrates a commitment to defend The Scotsman's position as the leading provider of Scottish news, politics, business, sport, comment and analysis."
Last week plans were announced to start placing much of The Herald's website behind a paywall but The Scotsman insists it has no plans to do likewise.