Motherwell Aerospace firm in US acquisition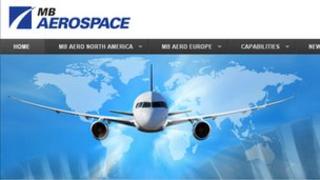 Scottish firm MB Aerospace has doubled the size of its operations by acquiring US-based Gentz Industries in a multi-million dollar deal.
The Motherwell-based company said the takeover created a group with revenues of more than $80m ($51.7m) a year.
The combined group will focus on machined and fabricated components for global aerospace and defence manufacturers.
The acquisition is part of a long-term strategy to expand internationally.
Capital for the takeover was in part raised by the sale of two non-core subsidiaries - MB Faber and MBAe Oil & Gas - in the past two years.
Gentz, which is based in Detroit, North Michigan, manufactures high-precision engine components to established customers, including Rolls Royce, Mitsubishi Heavy Industries, Volvo Aerospace and the US Department of Defense.
The deal will see the merger of Gentz's 250-strong workforce with MB Aerospace's three UK sites in Motherwell, Derby and Burnley, bringing the total number of employees in the group to more than 400.
'Real opportunities'
MB Aerospace chief executive Craig Gallagher: "This multi-million dollar acquisition is part of our long-term strategy to grow our core aerospace business internationally.
"Our UK businesses continue to perform well, reporting an annual increase in revenue of 20% for the last four consecutive years, and this acquisition opens up real opportunities for us to grow the business and develop strong long-term prospects in a mature aerospace market.
"We see strong synergies between the US and UK operations with two very distinct customer bases providing the opportunity to leverage the capabilities and strengths of both businesses into new markets, whilst securing employment and supporting the rapid growth of the business on both sides of the Atlantic."