Glasgow launches new business portal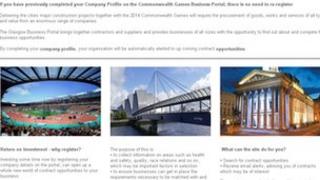 A new website is being set up which will help businesses compete for at least £1bn worth of public and private sector contracts in Glasgow.
The Glasgow Business Portal is being launched at Celtic Park by the leader of the city council, Gordon Matheson.
It is based on the Commonwealth Games Business Portal platform, which has drawn more than 17,000 registrations over the past two years.
Businesses will be able to bid on a range of projects through the portal.
They include contracts connected to the Glasgow 2014 Commonwealth Games, the New South Glasgow Hospital, the first phase of the Glasgow School of Art's Garnethill campus redevelopment and the University of Strathclyde's Technology and Innovation Centre.
The website launch is being organised by networking initiative BusinessClub Scotland in partnership with Glasgow City Council, Glasgow 2014 and the local chamber of commerce.
Mr Matheson said: "Every firm or organisation looking to become involved in the projects taking place in the city now and over the next few years must register with the Glasgow Business Portal. I believe that this is a fantastic opportunity that I would urge our business community to grasp. "
BusinessClub Scotland chairwoman Lesley Sawers said: "The Glasgow 2014 Commonwealth Games will leave a lasting economic legacy for businesses across Glasgow.
"Previous host cities such as Manchester, Sydney and Melbourne have delivered massive economic benefits to their business communities, and the launch of the Glasgow Business Portal today is a vital step in helping us do the same in this city."
BusinessClub Scotland is an initiative designed to help Scotland's business organisations capitalise on the opportunities generated by major events in Scotland both in the run-up to Glasgow 2014.