'Buoyant' year for Scottish farm and estate sales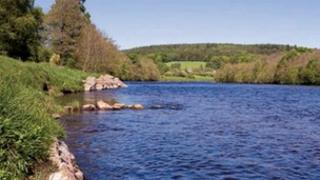 Scottish farm and estate sales have been buoyant this year despite widespread economic uncertainty, according to a new report.
Estate agents Strutt & Parker said more than £80m had been spent on the market in 2011.
The industry-wide figures indicated 22 estates were sold in Scotland - five more than in 2010.
Strutt & Parker said it showed the sector continued to be seen as "a safe investment by shrewd investors".
One highlight of the year was the sale of an estate on Royal Deeside with salmon fishing on the River Dee.
The Lower Dess Estate came onto the market in the spring at offers over £4.3m and sold for more than the asking price after a competitive closing date.
Robert McCulloch, from Strutt & Parker, said the year had seen "plenty of unsatisfied appetite" among prospective buyers and he expected the sector to continue growing in 2012.
He continued: "We started 2011 feeling fairly confident and it is clear that the momentum we predicted at the start of the year has been maintained. We have also seen a strengthening of the private market.
"Half of the properties sold in 2011 are in the Highland sporting category, with the driving force behind buyers in this sector being a passion for the dramatic Scottish Highland landscape and the pursuit of deer, salmon and grouse.
"Buyers do not necessarily expect their estates to 'wash their faces' in terms of annual income and expenditure but the capital appreciation over the medium to long term underpins demand - a Highland estate bought 10 years ago may have increased in value by as much as 100%."
He added: "Today's buyers are prepared to take a risk that this is a long-term pattern which is likely to continue despite short-term - and worldwide - economic uncertainties."