Campaign as betting shop raids rise in west of Scotland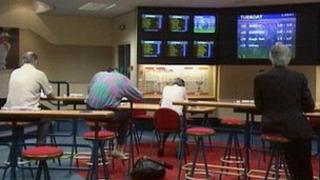 A campaign is being launched to tackle violence against betting shop workers, after a rise in robberies and assaults at bookmakers in the west of Scotland.
Labour MSP John Park said an industry-wide approach was needed to tackle the problem.
Figures obtained by BBC Scotland showed there were 17 reported assaults with intent to rob at Strathclyde bookmakers in the first 11 months of 2011.
This compared with three cases for the whole of last year.
The number of robberies at betting shops in the Strathclyde force area also rose from 25 in 2010 to 33 for the first 11 months of this year.
The figures - obtained from Strathclyde Police under a Freedom of Information request - contrasted with those of London, which saw a 46% fall in violent betting shop offences in 2010-11 following a campaign by the Met Police and major bookmakers.
The Safe Bet Alliance identified basic crime reduction measures in the UK capital, including reducing availability of cash, new physical security measures and training staff to identify risk and act appropriately.
'Worrying figures'
Mr Park, who is MSP for Mid Scotland and Fife, initiated a cross-party campaign in the Scottish Parliament in 2008 to highlight violence suffered by employees in bookmakers.
He said the figures for Strathclyde were "both disappointing and very worrying".
He continued: "MSPs from all parties united around a campaign to highlight the violence suffered by betting shop workers in 2008 and it is unfortunate there now appears to be a loss of impetus in dealing with the issue.
"But this isn't just about what politicians or the police can do - it is absolutely vital that the betting shop companies do everything they can to protect workers in their respective premises.
"I intend to write to the cabinet secretary for justice, asking that the Scottish government convenes a meeting of all interested parties - particularly the betting shop companies and Community trade union - so that a strategic look can be taken at these figures for Strathclyde and others parts of the country.
"If we can make that happen, I'm sure an industry-wide approach can be agreed that will tackle these problems head on."
'More work needed'
The Community union, which represents betting shops workers around the UK, said more work was needed to tackle the problem north of the border.
Scottish regional organiser John Paul McHugh said: "There is a disproportionate position between London and Scotland from these figures.
"Much as I welcome a reduction in cases in London, we would be very concerned if it is not being replicated in other parts of the UK.
"One question is whether the betting chains are allocating as much resources as they have been doing in London."
He added: "I have a degree of sympathy with the betting shops as there is criminality involved but if we are starting to see an increase in Scotland, we need to see an increase in activity in the betting chains to try and resolve it.
"On the basis of these figures, there is a lot of room for improvement."
Mr McHugh said some betting shops were still using lone workers, placing them at greater risk of assault.
He added: "The union believes that until betting shops completely remove the operation of lone-person working and beef up all other measures, we will not deal with the vulnerability of workers in betting shops."
Data 'conflict'
The Association of British Bookmakers did not respond to inquiries from BBC Scotland over the Strathclyde force area statistics.
However, bookmaker William Hill said its own internal data "conflicted" with the figures.
A spokeswoman said: "We haven't seen any increase. We launched a series of initiatives in 2010 after an overview of our security and it seems that they have had a positive impact because we succeeded in bucking the trend in Scotland."
The spokeswoman also said William Hill staff worked on their own "only in rare circumstances".
She added: "The security of our staff and customers takes precedence and we are not intending to rest on our laurels."