Scottish construction sector 'still vulnerable'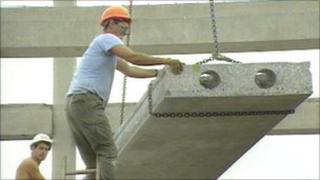 The construction sector is still facing "deep-rooted" difficulties, four years after the start of the recession, a report has suggested.
Insolvency trade body R3 said the collapse last week of South Lanarkshire civil engineering group WJ Harte and RJT Pennant indicated the sector remained vulnerable.
Harte collapsed after several of its smaller clients failed.
R3 said small firm failures indicated a domino effect in the sector.
Recent figures from the Insolvency Service showed 138 Scottish construction businesses went under in the first three quarters of 2011, compared with 158 for the whole of 2010 and just 72 in 2009.
R3 Scottish council member John Hall said: "The Harte construction collapse is indicative of a domino effect within the sector.
"Several smaller clients of Harte's failed, resulting in cumulative bad debts for the company which, coupled with the downturn in the sector, resulted in the business failing.
"Unlike other sectors, such as retail, there have not been many major corporate failures in construction but instead many smaller firms have failed which then produces a knock-on effect on their clients.
"They in turn end up with bad debts, the result of which is that one corporate failure leads to many others."
Growth opportunities
He added: "Given the continued squeeze on facilities by lenders it is highly likely that many more businesses in the construction sector will fail in the coming year.
"The great concern is that if a lot of these businesses fail, there will not be the necessary resources to capitalise on growth opportunities in the sector when they occur."
About 500 construction jobs were lost when Harte was placed in administration last week.
All 720 staff were sent home but more than 200 of them will be recalled to complete work on the order book.