Scottish Chambers of Commerce expects difficult 2012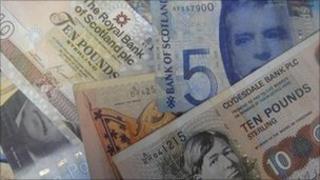 Scottish businesses are expecting a difficult year ahead, according to a study by the Scottish Chambers of Commerce.
The survey found that in the final three months of last year, business confidence and optimism fell.
The chambers said the Eurozone crisis and the impact of public sector spending cuts were to blame.
It warned there were few signs of improvement in 2012 and many companies expected to cut jobs.
The final survey from the chambers for 2011 showed some optimism at the beginning of last year, especially in construction.
However for most of the second half of the year, the industry saw a drop in orders and in the last three months, 80% of those surveyed said they were working below capacity.
An easing of cost pressures later in the year did help manufacturers who had been struggling to maintain margins in the face of higher prices of raw materials.
Although exports helped to maintain a certain level of orders - companies expect a slight fall in overseas sales in the first quarter of this year.
All areas surveyed reported that jobs had been cut towards the end of 2011 and all expected that trend to continue.
Retail and tourism were particularly gloomy about future prospects.
In retail more than 80% said sales levels fell between October and December last year and 77% thought profits would be down in the next 12 months.