Scottish Open 'worth £5m' to Scottish economy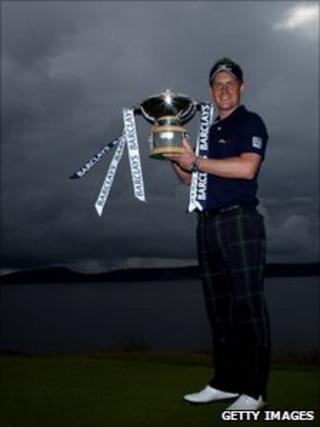 Last year's Barclays Scottish Open contributed more than £5m to the Scottish economy despite being cut short by thunder storms, according to a new study.
The estimate came in a report released by Highlands and Islands Enterprise.
The championship at Castle Stuart Golf Links near Inverness in July was cut from 72 to 54 holes, following torrential downpours.
It was won by world number one player Luke Donald.
The study suggested £3.7m was spent in the Inverness and Nairn area, with a further £370,000 elsewhere in the Highlands and Islands.
The rest was spent in other parts of Scotland.
The majority of spending was on overnight accommodation, food and drink.
About 43,000 people attended the event over the three days when play took place.
A pro-am event during the week brought the total number of spectators to more than 51,000.
It was the first time the Scottish Open, organised by the European Tour, had been held in the Highlands and Islands.
Castle Stuart had only six months to prepare for the tournament after being informed they had been chosen to host the event for up to three years.
Open 'success'
Highlands and Islands Enterprise development manager Scott Murray said: "The Scottish Open was hailed a success despite exceptional weather conditions cutting the event short.
"The majority of spectators in 2011 came from Scotland but we are expecting more visitors will come from further afield this year due to positive media coverage and a longer lead-in time before the event."
The enterprise body will use the economic impact assessment to help promote the area and generate more economic benefits across the Highlands and Islands.
VisitScotland regional director Scott Armstrong said the Scottish Open was a great opportunity to raise the profile of the Highlands as a top quality tourism product to a global audience.
He added: "The event brought thousands of visitors to the area last summer, and provided a real boost to the local economy.
"Some accommodation providers were fully booked and VisitScotland worked closely with local tourism businesses to maximise the benefits of hosting this world class event.
"We are also absolutely delighted that the event will be returning to Castle Stuart this year and are very much looking forward to hosting it again."