Value of Scotland's private housing stock up £149bn in a decade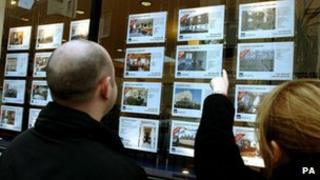 The value of private housing in Scotland has risen by £149bn in the last decade, according to new research.
The Bank of Scotland said private residential housing stock was estimated to be worth £263 billion at the end of 2011, up 131% from £114bn in 2001.
The value of the stock has increased at a greater rate than anywhere else in the UK.
The bank said the rise had been driven by higher house prices and an increase in housing stock.
The 131% increase seen in Scotland was the best performance in the UK, growing at a faster rate than the national average of 84%, and at a much faster rate than overall consumer prices.
Nitesh Patel, housing economist at Bank of Scotland, said: "Scotland has seen the largest increase in the value of the privately-owned housing stock over the past 10 years across the UK.
"Helped by more than a doubling in house prices, as well as a 16% increase in the stock of privately-held residential properties, the value of Scotland's housing has increased by 131%, or £69,000 per household, during the decade.
"For most homeowners in Scotland, housing is still very much the main store of private wealth."