Takeover investment boost for Loch Fyne Oysters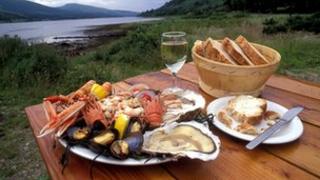 Seafood firm Loch Fyne Oysters is set for an investment boost after being taken over by Scottish Seafood Investments (SSI).
SSI will invest a seven-figure sum to eliminate debt and inject funds into the company to help it penetrate new export markets.
The move marks the end of nine years of employee-ownership at Loch Fyne.
SSI is a joint venture between private equity investor Northern Link Ltd and The Scottish Salmon Company.
It was formed last year to invest in Scottish aquaculture companies with growth potential.
Loch Fyne's existing management will remain with the company, which will continue to be based in Argyll.
All 105 jobs in the firm will be unaffected by the takeover.
Loch Fyne Oysters managing director Bruce Davidson heralded the move as a new chapter in the company's history which would see the business "move to the next level".
He said: "SSI has provided us with the investment we need to grow our business, while ensuring we maintain our independence.
"This exciting new partnership presents some great opportunities, allowing us to increase capacity and work together on the growth of our international business, taking the Loch Fyne brand to the market in the most effective way."
He added: "With SSI's investment and continued financial support we are not only better able to withstand current economic pressures but also look to the future.
"I believe that we can now really do the brand justice and look realistically at expanding into new export markets and growing."
Loch Fyne Oysters was set up in 1978 by entrepreneurs Johnny Noble and Andy Lane.
The company was moved into employee-ownership in 2003, following Mr Noble's death.
SSI's initial investment will clear the company's current liabilities and allow it to plan for growth. Further resources will be made available to develop capacity.
Investment plan
Loch Fyne Oysters farms oysters, mussels and operates a smokery from its site at Cairndow at the head of Loch Fyne.
An investment plan has been drawn up with SSI to grow capacity of salmon, oysters, mussels, sea urchins and seaweed in Loch Fyne.
Earlier this month, The Scottish Salmon Company announced plans to open 10 new farms along the west coast, creating 100 jobs over the next five years.
About half the jobs are planned for the Western Isles, with the others throughout the Highlands and Argyll.
In 2010 the Norwegian-listed Edinburgh-based business recorded an annual turnover of £92.4m.