European Commission suspends haddock discard rules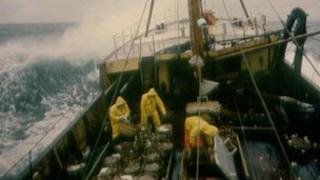 The Scottish Fishermen's Federation has welcomed a European Commission move to cut haddock discards West of Scotland.
The commission has suspended catch composition rules so fishermen can land their haddock quota as it is caught.
The rules limit the percentage of a given species within the catch, meaning boats had to discard fish even though they had not met their quota.
The emergency measures will be in place for six months, and may be extended for a further six months.
In a statement, the commission said incidental catches of haddock had increased due to recent progress in stock recovery.
It continued: "To comply with rules on so-called 'catch composition', fishermen would be forced to discard haddock for which they have a quota.
"Excessive discards were expected, thus threatening the stock's capacity to reproduce.
"Regulatory-induced discarding, if allowed to continue, would limit and endanger the further rebuilding of the stock."
The commission added: "Removing the haddock from the catch composition rule allows exploiting the stock rationally, prevents excessive discarding, and protects the other stocks better."
'Ludicrous' rules
Scottish Fishermen's Federation chief executive Bertie Armstrong welcomed the announcement by Fisheries Commissioner Maria Damanaki.
He said: "Under the previous ludicrous and totally unworkable catch composition rules, fishermen had no option other than to discard large quantities of perfectly good haddock, which was a tragic waste.
"We also welcome the fact that this appears to be a long overdue recognition from the EC, made in a statement by Commissioner Damanaki, that the inherent cause of discarding is down to fundamentally flawed regulations, rather than from the legitimate activities of fishermen."