Glasgow 2014 'will be biggest Scots catering event'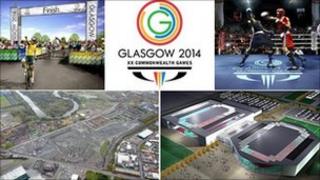 More than two million meals will be prepared for athletes, officials, staff and spectators at the 2014 Commonwealth Games in Glasgow, organisers have said.
They said more than 100 tonnes of fruit and vegetables, 10,000 loaves of bread and 25,000 litres of milk will be eaten during the event.
Food and drink producers are now being urged to compete for millions of pounds worth of contracts for the games.
Organisers said it would be the biggest event Scottish catering had ever seen.
Details of services contracts available will be highlighted by games organisers at the Scotland Food and Drink annual general meeting in Perth.
Glasgow 2014 head of catering, cleaning and waste Craig Lear said: "For 25 days of the games period, including the 11 days of competition, there will be more than two million meals made for athletes, team officials, technical officials, the media, the workforce, the games family and for spectators.
"The games will be a spectacular sporting event which showcases the city and the nation on an international stage.
"The race for those in the catering, cleaning and waste industries in Scotland will begin in late 2012 when we go out to tender for dozens of contracts."
Mr Lear added: "The opportunity to win business, raise international ambitions and deliver growth could be enormous, but like the event itself, only the best will win gold."
Companies who are interested in finding out more about the opportunities available should register on Glasgow Business Portal.
Larger value tenders are also being advertised in the Official Journal of the European Union.