Sales down at regional newspapers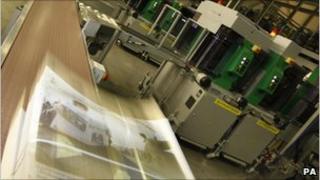 All the major regional newspapers published in Scotland have seen their sales slip, according to new figures.
The biggest drop in sales was at the Edinburgh Evening News, which lost more than 10% of its circulation in a year.
Meanwhile, the Press and Journal saw sales fall further below the 70,000 benchmark.
The newspaper sold an average of 67,781 copies a day between July and December - a drop of nearly 7% on the same period in 2010.
Its sister paper in Dundee, The Courier, slipped below 60,000 to net sales of 59,974 over the same period. This represents a 5% drop.
Both papers were revamped in January and now appear on tabloid-sized pages six days a week.
The Courier and The Press and Journal both outsell The Herald and The Scotsman by a considerable margin, but all four papers have seen their circulation decline steadily over a number of years.
The sales figures showed a big fall in the circulations of three evening papers - the Evening Times in Glasgow, the Edinburgh Evening News and the Aberdeen Evening Express.
The Evening News saw an annual fall of 11% to 37,250, while the Evening Times dropped 9% to 49,096, and the Evening Express saw a 10% fall to 44,038.