Lift firm Consult set to expand across UK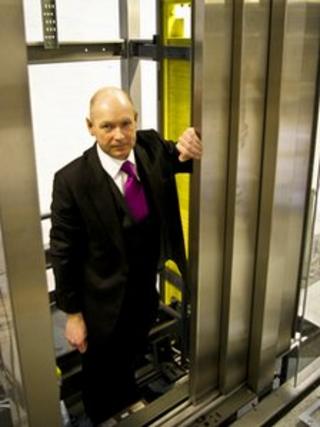 One of Scotland's largest lift and escalator companies has said it plans to triple turnover over the next three years by expanding its operations across the UK.
Consult Lift Services aims to take its business into the north east of Scotland and the south of England.
Its expansion strategy includes launching a rebranding and marketing campaign.
Founded in 1998, Consult has a turnover of about £2m and employs 25 staff.
Current clients include St Andrews University, Lotus Cars and The Golden Jubilee Hospital.
The firm's new managing director, Colin Edgar, said he was looking to grow turnover to more than £6m and double staff levels over the next three years.
Consult has estimated that the market for the design, supply and maintenance of lifts is worth £50m in Scotland, and nearly £1bn in the UK.
It said demand was being driven in part by growing interest in bespoke systems that required less maintenance and were more energy efficient.
Consult is currently building a lift showroom at its headquarters near Glasgow Airport, which will allow prospective clients to view the full range of lift systems being marketed by Consult.
The showroom will complement the company's own test and training lift tower, which is used for training, testing, safety and rescue demonstrations.