RBS jobs lost as work moves to India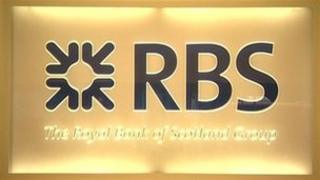 The Royal Bank of Scotland (RBS) has announced that it is to cut 215 full-time jobs, with work moving to India.
Most of the jobs are connected to the bank's back-office functions.
In Edinburgh, 120 of the jobs will go at the RBS Gogarburn headquarters and at the Gyle.
A statement from RBS said cutting jobs was the "most difficult part" of its efforts to re-structure the business and promised to minimise compulsory redundancies.
In addition to the full-time jobs, 80 part-time posts are to go.
A spokesman for RBS said: "We have embarked upon a three-year transformation programme across our finance division which will increase efficiency and allow us to serve our customers better.
"This includes looking at our global footprint and the movement of roles between countries reflects the global nature of our business.
"Having to cut jobs is the most difficult part of our work to rebuild RBS.
"We will do all we can to support our staff, offer redeployment opportunities where possible and to keep compulsory redundancies to an absolute minimum."