US exports of salmon leap by 36%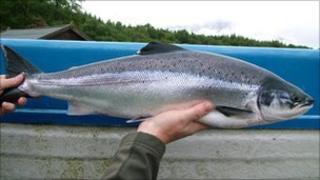 The value of exports of Scottish salmon to the US reached £211m last year.
That was an increase of 36%, the largest rise ever recorded, and has secured the US as Scotland's number one export market.
The latest export figures from Scottish Development International (SDI) showed that one quarter of Scotland's salmon production was sent to America in 2011.
That is equivalent to 43,703 tonnes and means Scottish farmed salmon is the country's largest food export.
SDI is currently leading a delegation to the International Boston Seafood Show.
Anne MacColl, chief executive, SDI said: "These new figures strongly reinforce the importance of the North American market for the Scottish seafood industry.
"This is hugely encouraging and it's vital that we continue to build on our success by increasing trade relationships with influential salmon and seafood buyers across the world".
Scott Landsburgh, chief executive, Scottish Salmon Producers' Organisation said: "Scottish salmon has achieved a 20% share of the £1bn US salmon market."
He added: "Continuing to develop our international offering is vitally important for our sector."