Budget: SNP to table fuel duty amendment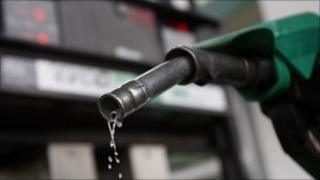 The Scottish National Party is to propose an amendment to the Chancellor's budget which it says would freeze future increases in fuel duty.
In his Budget on Wednesday, George Osborne proposed that fuel duty should rise by over 3% at the start of August.
The SNP says the level of duty could be held down when fuel prices rise and compensated for by the increased VAT revenue on fuel.
The Treasury said action had already been taken to help with motoring costs.
The proposal has been backed by the Road Haulage Association.
SNP Treasury spokesman Stewart Hosie said: "We now urgently need not just a cut in duty, but the introduction of a fuel duty regulator to permanently bring prices under control.
"With the bulk of the pump price made up of tax, the Treasury must stop this highway robbery because soaring fuel prices are hindering economic recovery."
He added: "With record North Sea oil and gas revenues flowing to the Treasury, we need to see some of that money used to bring fuel prices down - and to keep them stable - through a fuel duty regulator."
'Scrapped rise'
The price of petrol rose above 140p a litre for the first time on Friday; petrol prices have now risen more than 2.75p a litre in just three weeks.
The average price at the pumps has now reached 140.20p a litre, with diesel at a new record of 146.72p, according to the AA.
In his Budget, Chancellor George Osborne confirmed a fuel duty rise planned for August, which - with VAT added - will amount to 3.62p a litre more for road users.
The Chancellor has promised that fuel duty will not rise above the rate of inflation as long as oil prices stay high.
A Treasury spokesperson said support worth £4bn had already been delivered to help households with the cost of motoring.
"At the Autumn Statement we froze fuel duty until August and scrapped another planned rise altogether.
"This came after our decision to cut fuel duty at Budget 2011, abolish the fuel duty escalator and replace it with a fair fuel stabiliser.
"Petrol and diesel will be an average of 10 pence per litre cheaper than if we had proceeded with the escalator previously announced in 2009.
"We have always been clear that decisions on the public finances must support the Government's priority of reducing the deficit in a sustainable way."
BBC correspondent James Shaw says the SNP's proposal could be popular with motorists, but that Labour say cutting VAT would be a better way to help the economy.