City watchdog criticises Glasgow credit unions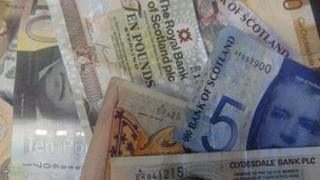 The Financial Services Authority (FSA) has publicly censured two Glasgow credit unions for breaching financial rules.
The city watchdog found that Pollok Credit Union put its own solvency at risk by issuing a large loan to a non-member.
Shettleston and Tollcross Credit Union made loans to its directors on better terms than those available to members.
The authority said it had decided not to fine the organisations.
However, Tom Spender, head of retail enforcement at the FSA, said: "In different and more serious circumstances the FSA may have considered imposing a financial penalty as credit unions do not have immunity from our rules.
"Credit unions are there to protect their members and we will not hesitate to take action where their interests are put at risk."
The FSA found that between April 2008 and August 2011, the Pollok Credit Union made a series of loans to a trust that it had set up to manage a local post office and day-care centre.
The watchdog said the loans breached its rules because the trust was not a member of the credit union, and that 88% of its capital was tied up in those loans.
The FSA's rules state that individual large exposures must not exceed 25% of a credit union's capital.
Meanwhile, Shettleston and Tollcross made loans to seven directors with better rates than those offered to ordinary members between 2006 and 2007.
Although the practice stopped when the credit union realised this was not allowed, it did not recover the lost earnings.
The directors have now agreed to repay this in full.