House planning applications could double in price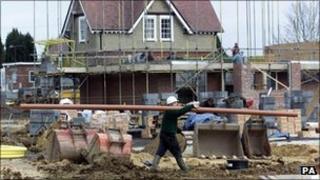 The cost of applying to build a house could more than double under plans to shake-up the planning system in Scotland.
Individual applications would increase from £319 to £800 with the cap for large and complex developments growing from £15,950 to £100,000.
It follows concerns about the growing gap between fees and the cost of processing applications.
The proposals are part of five new Scottish Government consultations.
Public spending watchdog Audit Scotland found that over the six years to 2009-10 the overall gap increased in real terms from £6.7m to £20m.
The proposed maximum £800 for a single house would include associated neighbour notification advertising costs, not reflected in the current fee.
The cost of applying to enlarge a property, including the building of dormer windows, would be charged at £300.
Other proposals would see development of between two and 49 units charged at £500 each.
Developments containing 50 residential units would pay £24,800 with extra properties charged at £200 a unit until the maximum £100,000 is reached. The comparable maximum in England is £250,000.
Rise in performance
Announcing the proposals, Planning Minister Derek Mackay said: "Today I am launching a consultation on reforming planning fees so they are proportionate and effective.
"That will mean increasing fees for those projects which take the greatest resources and reducing them for those that take less.
"But I will not allow fees to rise without a similar rise in performance.
"I intend to consult on a proposition that if an authority fails to deliver an improved performance, steps can be taken to have the fees paid in that authority revert back to their current, lower level."
Home building industry body, Homes for Scotland, welcomed the consultation.
The organisation's Director of Planning Allan Lundmark said: "A planning system which promotes development is critical if Scotland is to achieve its goal of sustainable economic growth, but the greater speed and efficiency promised by the changes of the 2006 Planning Act have not yet materialised.
"So, whilst we welcome the suggestion of a better-funded planning system through higher fees, this must be on the strict understanding that it results in a step-change in performance."