New Scottish Open golf sponsor unveiled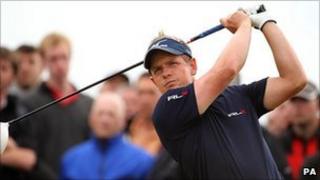 Investment firm Aberdeen Asset Management has been unveiled as the new title sponsor of the Scottish Open golf championship at Castle Stuart Golf Links, near Inverness.
The three-year sponsorship deal is part of a funding package which has drawn Scottish government support.
The event's prize fund will rise from £2.5m this year to a minimum of £3m for the 2013 and 2014 tournaments.
Aberdeen has taken over sponsorship of the championship from Barclays.
The event will be held for the second year in a row at Castle Stuart from 12-15 July.
The sponsorship deal was announced jointly at Edinburgh Castle by First Minister Alex Salmond, George O'Grady of the European Tour and Martin Gilbert of Aberdeen Asset Management.
VisitScotland welcomed the announcement, saying it further cemented Scotland's reputation as the home of golf.
'Great news'
Chairman Mike Cantlay said: "The global reach of the 2012 Aberdeen Asset Management Scottish Open in July will again put Scotland firmly on the world golfing stage as we journey towards The Ryder Cup in 2014.
"Today's announcement is not only great news for the Highlands, but for the whole of Scotland."
The Scottish government is to provide £2m of funding for Scottish golf over the next three years, some of which will be used to promote and market the Scottish Open.
The rest of the money will be used to help fund youth and club golf programmes which are being developed around the new Aberdeen Asset Management Scottish Open tournament schedule.
Mr Salmond said: "The Scottish Open is one of the flagship events on the European Tour as well as a jewel in the crown of the Scottish sporting calendar that attracts keen interest from golf fans across the world.
"I am therefore delighted to announce that Scottish government funding, alongside major sponsorship from Aberdeen Asset Management, has helped secure the future of this prestigious tournament for Scotland."
Last year's Barclays Scottish Open was estimated by Highlands and Islands Enterprise to have contributed more than £5m to the Scottish economy, despite being cut short by thunder storms.
The championship was won by world number one player Luke Donald.
Castle Stuart is currently featuring in VisitScotland's global golf marketing campaign, Drive it Home, with golf fans around the world being given the chance to play on the course.