Jobs threat as FirstGroup bus firm plans Lothian service cuts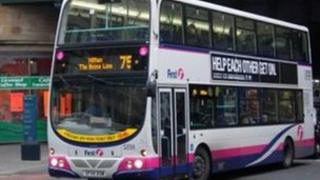 Up to 200 jobs are under threat after bus operator First Scotland East said it planned to end some of its services.
The company said the "difficult decision" followed several years of poor trading performance.
The operator, which is part of FirstGroup, plans to discontinue an undisclosed number of services in East Lothian and Midlothian.
It also plans to close its Dalkeith bus depot and "significantly" cut the size of its Musselburgh depot.
First Scotland East has started a collective consultation process with trade unions on the possibility of redundancies at the depots but has indicated it will offer affected staff posts elsewhere within the group where possible.
A Scottish government spokesman said Transport Minister Keith Brown would be talking to FirstGroup and rival operator Lothian Buses about the provision of services across the withdrawn routes.
'Distressing news'
First Scotland East managing director Paul Thomas said: "We appreciate this will be distressing news for many of our staff and also unwelcome news for customers.
"However, we have for some time been running a number of services in the East and Mid Lothian regions at a loss.
"Over a number of years we have tried many marketing and pricing initiatives to change this, but the extra financial pressures put upon us by the current economic climate, high fuel prices and cuts in external funding mean that we simply have no option other than to discontinue the bulk of our operation in East and Mid Lothian."
He added: "Unfortunately, up to 200 positions are at risk from our Dalkeith depot, which we propose to close, and from our Musselburgh depot which we propose to significantly reduce in size."
Mr Thomas said the company had "fully explored" a range of alternatives, including selling its operations and transferring its staff to another operator in the area, but these had proved unsuccessful.
First Scotland East has notified the traffic commissioner of its plans, which it said affect nearly one-fifth of its operations.
Margins 'squeezed'
Last week, Aberdeen-based FirstGroup warned that margins at its UK bus division would be squeezed from 13% to 8% this year.
The company said the north/south divide was widening "with considerably lower growth rates emerging in Scotland and the north of England".
Poor economic conditions and cuts in government subsidies were blamed for the deterioration in trading.
Late last year, FirstGroup asked the Office of Fair Trading for permission to cut back on bus routes linking Glasgow city centre with destinations to its east.
Ian Craig, managing director of Lothian Buses, said: "We are aware of the unfortunate developing situation at First Scotland East.
"We will be reviewing the impact of these planned changes to our own network and in the coming days will assess if there are potential opportunities to enhance our network in areas where services may otherwise be lost."