Confidence 'rising' in Scottish salmon farming sector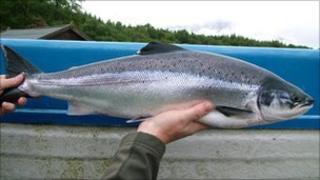 Capital investment in the Scottish salmon farming industry reached a record £47.6m last year as confidence in the sector continued to grow, according to a new report.
The Scottish Salmon Producers' Organisation (SSPO) said 272 new jobs were created during 2011.
The survey suggested expenditure on suppliers and services climbed by 22% to £435m.
The industry body also reported increasing confidence levels.
SSPO said 86% of its member companies planned to increase staff over the next five years.
The body's chief executive Scott Landsburgh said: "The new economic report shows that salmon farming continues to be an expanding part of our economy, supporting more than 2,124 direct jobs which is a 13% rise on the previous year.
"Direct employment is only part of the picture as there are many more thousands of jobs supported in the supply chain.
"The expenditure on the immediate suppliers and services to the sector also recorded a massive leap."
Last month, Scottish Development International reported that the value of exports of Scottish salmon to the US reached £211m last year.
That was an increase of 36% - the largest rise ever recorded - securing the US as Scotland's number one export market.