Grant boost for Scottish 'green bus' fleet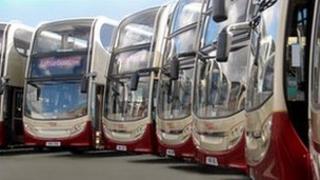 More than two dozen low carbon vehicles are to be added to the Scottish bus fleet as a result of a £1.8m Scottish government grant.
Several operators bid successfully for a share of theScottish Green Bus Fund.
They include Henderson Travel, which operates in Airdrie and Cumbernauld, National Express Dundee, Lothian Buses, MacEwan's Coach Services and Deveron Coaches.
The operators will each receive cash to help buy new low carbon buses.
Last year's Scottish Green Bus Fund round saw five bus operators introduce 48 new low carbon buses.
A further 26 will be built as a result of this year's round.
Transport Minister Keith Brown announced the funding awards during a visit to the Henderson's Travel depot in Hamilton, Lanarkshire.
'Substantial savings'
Mr Brown said: "Early indications from the use of vehicles bought in the first phase are showing substantial fuel savings and reduced emissions.
"This round of investment will build on these successes and commits further funding to help our bus industry invest in the latest emission-reducing technology."
The new buses will be spread throughout Scotland - in Edinburgh, Dundee, Airdrie/Cumbernauld, Banff/Buckie/Keith and Dumfries.
Falkirk-based bus manufacturer Alexander Dennis Ltd, which produced a fleet of 15 hybrid vehicles last year for Lothian Buses, will handle National Express Dundee's order, while Volvo will supply Lothian Buses.
Optare Group will manufacture the remaining vehicles for MacEwan's Coach Services, Deveron Coaches Ltd and Henderson Travel.
Henderson's Travel boss John Henderson said: "These hybrid vehicles are central to our policy of operating economical, environmentally-friendly vehicles, which is particularly important during these times of high fuel prices."