Survey finds Scottish home running costs at 10-year high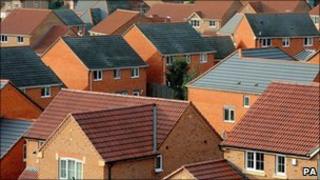 The cost of owning and running a home in Scotland has soared to the highest level in a decade, according to new research.
A study by the Bank of Scotland found the average yearly amount spent on house costs was £8,523 in January 2012.
That is a jump of 50% since analysis began in 2002.
Researchers blamed rising utility bills for the increase in housing costs, which came despite a reduction in mortgage repayments.
The bank said its analysis showed that over the past year the cost of housing in Scotland has risen by 3.1%, with gas and electricity bills accounting for 92% of that increase.
Utility bills rose by an average of £238 in the year from January 2011 to January 2012.
The increase in gas and electricity charges was nine times the rise in the cost of home and garden tools, which was the second biggest contributor to the overall jump in housing costs.
By contrast, during the past year mortgage repayments fell by an average of £58.
The study said the typical annual mortgage payment had fallen by almost a quarter over the past four years, from £3,775 in January 2008 to £2,910 in January 2012.
Researchers said the decline reflected the fall in mortgage rates and a reduction in house prices.
Home running costs have risen across all UK regions in the past 12 months, with Scotland recording the third highest increase.
However, the average amount spent on homes costs in Scotland still remained lower that the figure for the UK as whole (£9,393).
Nitesh Patel, housing economist at Bank of Scotland, said: "The typical costs of owning and running a home in Scotland have increased over the past year, even though interest rates remain at a historic low.
"This has happened because the substantial fall in mortgage payments over recent years has been more than offset by increases in most of the other costs associated with home ownership.
"The prospect of declining consumer price inflation through much of 2012 may help the costs associated with running a home to ease as well, providing some welcome relief to homeowners."