Survey: 'Better start' for Scottish firms in 2012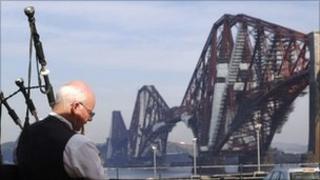 Scottish firms have had a better start to 2012 than they did last year but "widespread difficulties" remain, a business survey has suggested.
The Scottish Chambers of Commerce (SCC) reported a slight improvement in activity in the Scottish economy in the first quarter of the year.
The improvement was led by more positive indicators in manufacturing and tourism.
The survey also found firms were now more confident about the year ahead.
But confidence varied between sectors and Scottish regions.
Garry Clark, SCC's head of policy, said: "Across all sectors, except retail, the trends in orders and sales are stronger than at the same time last year and outturns are generally ahead of expectations at the end of 2011.
'Modest growth'
"Scotland's manufacturing sector now appears to have returned to modest growth after a difficult latter half of last year, with a stronger trend in new orders and high expectations returning in terms of exporting.
"Importantly, our manufacturers are anticipating more positive trends in terms of both turnover and profitability.
"There are fewer signs of recovery in construction and clearly here more government support is essential to stimulate demand."
Mr Clark said tourism businesses reported a better than anticipated first quarter and expectations for the year ahead were at their highest levels for four years.
He added: "However, looking behind the tourism data reveals differences between urban and rural businesses, with concerns over the cost of transport, including ferry travel, being widely cited by rural and island businesses and this could have a material effect on their ability to attract visitors over the year ahead."
SCC's latest quarterly business survey was conducted in conjunction with the University of Strathclyde's Fraser of Allander Institute.