Ryanair cuts more routes at Edinburgh Airport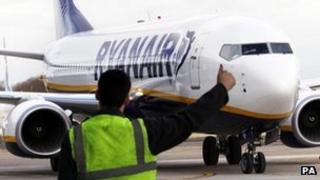 Ryanair has announced further cuts in its operations at Edinburgh Airport.
The budget airline said it would close eight routes and 60 weekly flights from October 2012.
Winter routes affected include Bratislava, Bremen, Frankfurt, Fuerteventura, Gothenburg, Kaunas, Lodz and Poznan.
In February, Ryanair cut five routes from its summer schedule, after a breakdown in talks with operator BAA over airport charges.
The airline claimed the latest cuts would see Edinburgh Airport traffic fall by 500,000 passengers a year and lead to the loss of up to 500 "on-site" jobs.
Ryanair warned that deeper cuts to its winter schedule "may be inevitable" if BAA Edinburgh failed to agree an extension to a five-year base agreement, which expires in October 2012, on more competitive terms.
Deputy chief executive Michael Cawley said: "Ryanair regrets BAA Edinburgh Airport's rejection of our proposals for a competitive cost base which would allow Ryanair to further grow our traffic and routes for winter 2012 and beyond.
"Sadly, BAA Edinburgh seems to prefer higher costs, even if it means fewer passengers and jobs at Edinburgh."
'Edinburgh monopoly'
Mr Cawley said that Ryanair remained committed to Edinburgh Airport, with 1.3m passengers and 17 routes planned for next winter.
But he added that "the BAA Edinburgh monopoly cannot continue to ignore the competitive marketplace, where airports all over the UK and Europe have been reducing costs and lowering charges in return for traffic growth".
Mr Cawley said he hoped there was a way to reverse the airline's cuts "to ensure further Ryanair growth" at Edinburgh.
Edinburgh Airport managing director Jim O'Sullivan said: "Of course we are disappointed that Ryanair has announced that it will reduce its services from Edinburgh.
"It was expected as we saw similar cuts in last year's winter schedule.
"The numbers quoted on any passenger and job impacts are speculative and we look forward to further negotiations with Ryanair once the sale of the airport is concluded.
"However, our position remains the same. We have tried extremely hard to negotiate with Ryanair but sadly on many issues have not been able to find common ground."
He added: "We continue not to be able to accept their wish to not pay the agreed air traffic control costs that all other airlines pay."
Transport Minister Keith Brown said: "We are disappointed by the announcement that Ryanair is cutting further services from Edinburgh Airport and, while there are obvious differences, we note that there remains a willingness from the airport and the airline to continue discussions.
"I would encourage both parties to do what they can to seek a solution which is good for them and is good for passengers."
BAA is selling Edinburgh Airport following a decision by the Competition Commission, with final bids due to be lodged later this month.