Editor-in-chief role axed at Scotsman Publications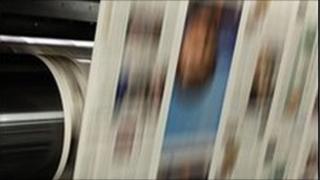 Johnston Press has axed the role of John McLellan as editor-in-chief of The Scotsman, the Evening News and Scotland on Sunday.
The regional publisher said it was part of a move to create a flatter and more efficient management structure.
Mr McLellan has been placed on leave while negotiating his future.
Johnston Press recently delayed announcing its most recent results while discussing its large debts with lenders.
Mr McLellan was the fifth editor of The Scotsman since 2000.
The paper's sales have been in long-term decline - a trend which shows few signs of levelling off.
In February, The Scotsman's circulation fell below 38,000 for the first time in living memory. As recently as January 2007 it sold 60,000 copies a day while in 2001 its sales sometimes reached 90,000.
In a statement, Johnson Press said Mr McClellan's role as editor-in-chief of The Scotsman Publications Ltd would cease to exist.
It continued: "The editors of each title will report directly to the managing director of the Scottish Publishing Unit.
"John McLellan has been placed on leave and is in consultation with the company.
"Further announcements on the editorship of The Scotsman will be made in due course."
'Anger and disbelief'
The National Union of Journalists reacted angrily to the move.
In a statement, it said: "Following an emergency chapel meeting, the joint chapel of The Scotsman Publications would like to register - in the strongest possible terms - our anger and disbelief at the appalling manner in which our editor-in-chief has been treated by the management of Johnston Press.
"John McLellan is an internationally respected journalist and editor who was held in the highest esteem by his staff - if not by his bosses."
Other Johnston Press titles in the north of England have also seen senior editorial cuts.
This week Simon Reynolds left as editor of the Lancashire Evening Post.
Johnston Press will also merge the editorships of the Yorkshire Post and the Yorkshire Evening Post.