British Airways raises hopes over Glasgow jobs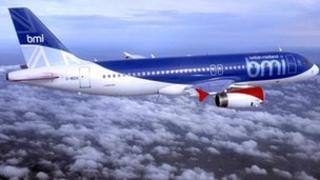 British Airways has said it will look to create jobs at its engineering facility in Glasgow, after owner IAG announced its purchase of airline BMI could lead to 1,200 UK redundancies.
The news came as BA began consulting with unions on plans to integrate BMI into its operations.
The proposed UK redundancies will mainly affect BMI's head office at Castle Donington and regional airports.
BA said it would look to create jobs in Glasgow from January 2014.
An unspecified number of jobs may become available then, as a contract for BMI aircraft heavy maintenance work outside the UK expires.
The sale of BMI by Lufthansa to AIG was announced in December and regulatory approval was granted by the European Commission on 30 March.
The deal is expected to take effect on 20 April, IAG said.
BMI employs more than 3,600 staff, but reported a £153m loss in the year to 2010.
There is still uncertainty over the future of BMI's regional division, based in Aberdeen, which has attracted interest from private investors.
IAG said discussions with potential buyers of the division were continuing.