Cairn Energy acquisition Agora in oil strike success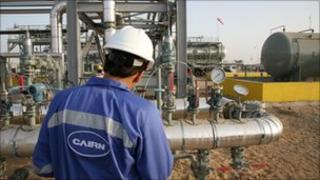 A company which is to be bought by the Edinburgh explorer Cairn Energy has struck oil in the Norwegian North Sea.
Agora has discovered "light oil" at the Skarfjell Prospect and although the well has not been tested it said sampling had been carried out.
Meanwhile the company said it had abandoned the Cladhan South exploration well in the UK Northern North Sea.
Cairn announced earlier this month that it was to buy Agora Oil and Gas for $450m (£281m).
The deal is subject to regulatory approval.
At the time Cairn said that the acquisition would add to its 2012 exploration programme, with up to nine Agora wells scheduled to be drilled off the UK and Norway.
Of this latest strike, Svein Ilebekk, chief executive of Agora, said: "We are very pleased to make such a promising discovery with our first well in the Norwegian sector.
"The combination of good reservoir properties, long oil column and large in-place volumes makes us confident in the commerciality of Skarfjell and we see good potential for the appraisal campaign to prove further upside volumes beyond the current range indicated by this well."
He added: "Cairn's size and strength will help us support the development and production of Skarfjell, should that ultimately prove to be the most attractive way of realising value from this discovery."
Shares in Cairn rose on the news.