Gaia-Wind wins US turbine order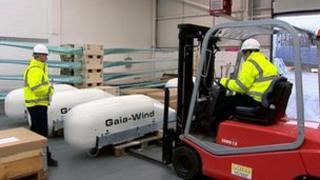 Energy firm Gaia-Wind has won an order worth nearly £1.5m to supply wind turbines to an American company.
Gaia will provide California-based Talco Electronics with up to 50 large-bladed 11kW turbines.
The deal follows a recent contract win to supply 200 turbines to England-based renewable energy provider Myriad CEG Power.
Gaia develops and supplies small wind turbines, typically for farms and small businesses.
The US deal marks the latest stage in an international expansion programme launched by the Glasgow-based firm.
It recently opened an office in Milan and is strengthening its operations in Denmark with the appointment of a new European operations manager.
The company also reported the installation of its first wind turbine in France.
Gaia-Wind chief executive Johnnie Andringa said: "Coming just weeks after announcing a record 200 turbine order for the UK, we believe we are now well on track for the sustained growth targets we have set ourselves.
"In the United States we are catching the wave of 'distributed generation' - that is electricity being generated where it is used.
"We are now taking this expansion forward across European markets."