Aggreko boss Rupert Soames nets £7m share bonus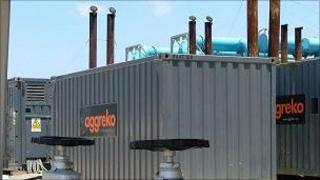 The boss of Aggreko, the Glasgow-based power generation company, this week cashed in a bonus payment for 2009 worth nearly £7m.
Rupert Soames, chief executive of the temporary power company, was awarded the maximum bonus for his work through the worst year of the recession.
It comes from the sharpest share price increase of any company on the FTSE 100 index of leading London-listed firms.
In 2009, Mr Soames was paid £500,000, with a short-term bonus of £397,000.
He was also awarded 325,000 shares in Aggreko, conditional on staying with the company until the end of 2011, and on performance targets being reached.
Event power
These were awarded to him on Monday, and he sold almost all of them. From a low in 2009 at £4.05 pence per share, the sale announced on Tuesday was for £21.60 per share, bringing in £6.96m
Finance director Angus Cockburn was also awarded shares on Monday from the 2009 long-term incentive plan, worth £3.47m.
Aggreko supplies temporary power supply to countries where economic growth is outstripping electricity generating capacity.
It also supplies power generators to temporary events such as the Olympics, Winter Olympics and FIFA World Cup, announcing last week that it expects to make £50m out of the London Olympics.
In the most recent annual report, covering 2011, Mr Soames has taken a rise in his salary and short-term bonus of 6%, up from £1.31m to £1.39m.
During 2011, profits rose to £324m on turnover of £1.4bn.
The company highlights the performance of Aggreko shares since Mr Soames took over as chief executive in 2003, with a shareholder return of more than 2000%.
It reckons that £100 invested in the average FTSE 100 company in the five years to the end of 2011 would deliver a return of £7, but the same investment in Aggreko would have brought a £381 profit.
The company also claims Mr Soames and other chief executives have relatively low salaries for their peer group of companies, and opted last year to keep pay increases close to the company staff average.
A spokesman said: "These remuneration levels reflect the outstanding performance of the business in recent years."
While the headquarters of Aggreko is in Glasgow, and its assembly plant in Dumbarton has recently been expanded, the chief executive is based near London.