Local bus merger referred to Competition Commission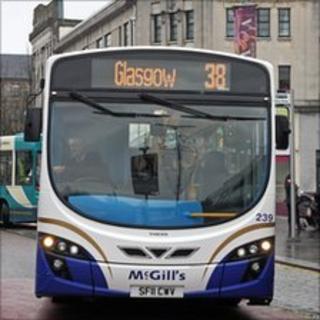 Bus routes in Renfrewshire and East Renfrewshire are to be investigated by the Competition Commission.
The move follows the takeover of Arriva's west of Scotland services by McGill's, based in Greenock.
The Office of Fair Trading (OFT) looked into the implications for passengers of last December's takeover.
It found it had created several sections of routes in and around Paisley where the enlarged company now has a monopoly.
The OFT is using its power to refer the takeover for a more thorough investigation.
MacGill's more than doubled in size following the deal, which was thought to have been worth more than £10m.
'Only option'
The company, which operates nearly 200 buses from its Greenock and Barrhead depots, took on Arriva's depots in Johnstone and Inchinnan as well as 165 buses.
OFT senior director Ali Nikpay said: "Where local competition exists, the OFT will look carefully at mergers between rivals that have the potential to result in price rises or a reduction in journeys for passengers.
"As such, we believe it is appropriate that the Competition Commission reviews this merger in detail to ensure that the interests of passengers in this part of Scotland are protected."
Ralph Roberts, McGill's managing director, said: "We are disappointed to hear of the OFT's decision today.
"Despite McGill's offering a number of guarantees to the OFT in relation to fares, routes and frequencies, we now face another six months of uncertainty.
"The decision throws into sharp relief the fact that we have a London-based government agency having a direct impact on local business, without the required local market knowledge."
He added: "McGill's has saved jobs and bus routes in Renfrewshire following Arriva's decision to withdraw from the Scottish marketplace.
"Had we not done so, we would be witnessing a similar scene here as we have seen in Dalkeith and Musselburgh in recent weeks, with the loss of over 200 jobs."
The merger was reported to the OFT by the MP for Paisley and Renfrewshire North, Jim Sheridan.
Mr Sheridan said: "One company having a monopoly of routes in the area is not a healthy situation for the travelling public, particularly in an area where travel by bus was the only option for many."
The Competition Commission is expected to report by 2 October.