Management rescue newspaper group, Dunfermline Press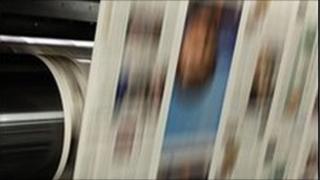 The Dunfermline Press newspaper group has been bought over by its management after being placed in receivership.
The Fife-based publisher has 20 titles, including the Greenock Telegraph and Helensburgh Advertiser.
It also owns local papers in England and a small radio station in Dunbartonshire.
The company has had its finances and its £25m debt restructured, with the titles split off from the estate of its late owner, Deirdre Romanes.
A statement by the owners said no trade suppliers or staff contracts are affected.
The new owners, called Romanes Media Group, followed the appointment of receivers Bruce Cartwright and Matthew Hammond of PricewaterhouseCoopers to the media group's holding company.
In a statement, the directors, John Allwood, Graham Morrison and Graham Faulds, claimed the buy-out represents a "new chapter" for the publishing group: "Having worked within the business for a number of years we are delighted to be able to participate fully in the future development of this business".
Bruce Cartwright added: "This is a business that has continued to perform during difficult trading conditions.
"The restructuring of the holding company, supported by such an experienced management team, is an extremely positive step for the business, its employees, its customers and all its associated suppliers."