Standard Life reports 'resilient' start to 2012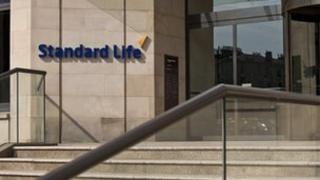 Assets administered by Standard Life reached a record high of £206.8bn in the last quarter as the insurer reported a "resilient" start to 2012.
Third party assets under management also climbed to a record £76.1bn, up from £71.8bn in the previous quarter.
However, new business sales slipped from £5.8bn to £5bn.
The Edinburgh-based company said robust UK pension sales helped it weather a general downturn in saving and investment levels during the quarter.
Chief executive David Nish said: "Standard Life has had a resilient start to 2012 despite the uncertain economic environment and fragile consumer confidence which has affected new business volumes in the first quarter against a strong start to last year.
"Against this backdrop our performance has been good."
He added: "Inflows into our long-term savings businesses and strong performance from Standard Life Investments have helped to increase both our group assets under administration and Standard Life Investments third party assets to record levels, driving growth in fee-based revenue while we continue to improve the efficiency of our business."