Laser firm M Squared secures funding boost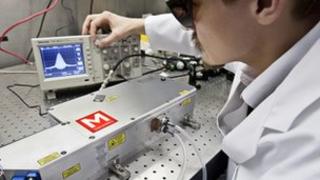 A laser manufacturer has secured £3.85m of capital funding in a boost to its research and development programme.
Glasgow-based M Squared Lasers was awarded the cash by the Business Growth Fund (BGF).
The firm, which designs and manufactures lasers and photonic optical instruments, said the cash would help it develop its technology.
BGF is an independent fund , backed by five of the UK's main banking groups, to help Britain's smaller businesses.
M Squared's laser-based systems can remotely detect gas leaks and perform environmental monitoring - for example, by identifying the extent and location of a methane leak in the oil and gas industry.
Other remote sensing applications include the detection of explosives, chemicals or pollutants.
'Growth potential'
M Squared co-founder and chief executive Graeme Malcolm said: "We are seeing considerable expansion in the potential applications for lasers, not least in the defence and medical industries where detection capability is critically important.
"For us, this offers real growth potential.
"BGF's investment will allow us to further develop our laser technology and fund our sales and marketing efforts."
He added: "In particular, we are looking at new market opportunities in remote sensing, and will specifically focus on developing our Firefly laser product, which has a clear application for the security and defence, oil and gas and food and drink industries."
With an office in San Jose, California, M Squared sells lasers to and collaborates with a range of blue chip partners and research institutions across Europe, North America and Asia, including Thales, Philips, Osram and Stanford University.
In return for the capital injection, BGF will take a minority stake in the business and join the existing board.
This is BGF's second investment in Scotland this year following its backing of Stats, an Aberdeen-based oilfield service sector business, in March.