Aberdeen umbilicals firm Hydrasun reports sales leap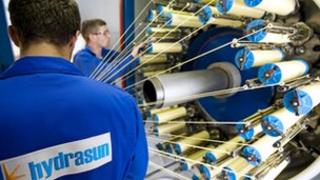 Aberdeen-based Hydrasun has reported a 50% rise in sales of umbilicals products to the global energy market.
Sales climbed from £6m to £9m over the year to the end of March, following an upsurge of demand.
The company's global staff numbers have increased by more than 100 in the past year to reach a total workforce of nearly 600.
Hydrasun announced the news as it exhibited at the Offshore Technology Conference in Houston.
Recently Hydrasun provided more than £10m of products, both umbilicals and specialist hose assemblies, for the Burullus West Delta Deep project, offshore Egypt.
Chief executive Bob Drummond said: "We have had a really positive start to the year and the considerable increase in sales for umbilicals has partly been due to the number of operators working on major projects, such as Burullus, who have chosen Hydrasun."