Edinburgh firm Angel Biotechnology buys collagen plant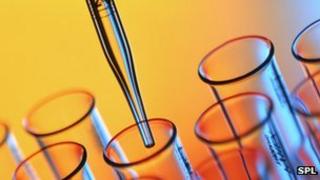 Biopharmaceutical firm Angel Biotechnology has bought a collagen manufacturing facility in Glasgow as it seeks to expand its core business.
The purchase was undertaken by Angel's newly-formed and wholly-owned subsidiary, Angel Biomedical Ltd (ABL).
The move will allow Edinburgh-based Angel to produce collagen products in the medical device and regenerative medicine markets.
The assets of the collagen business were acquired for £200,000.
The 6,500 sq ft facility includes a laboratory and office suite.
The new manufacturing plant will be complementary to Angel's existing core business in advanced biologics, which includes biopharmaceutical proteins and cell therapies, such as stem cells.
ABL will seek to identify opportunities to develop its own products.
'Strategic advantages'
Angel said it was nearing the end of negotiations with a "sizeable customer" on a long-term supply contract for materials supplied directly from ABL. The group expects other contracts to follow.
Angel Biotechnology Holdings executive chairman Paul Harper said: "The formation of ABL provides significant strategic advantages to the group, and the distinctive competencies offered will provide a one-stop shop for companies in the regenerative medicine space.
"Angel will now have the capability to develop a new customer base with new products in sectors well understood by our business.
"ABL will also provide access to a range of new markets by offering customers the means by which to convert advanced biologics and cell therapies currently being manufactured by Angel into formulated, finished products such as medical devices and in-vitro diagnostics."