Scottish house price 'reality gap' widening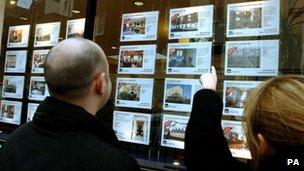 The average property in Scotland is being sold for £17,500 less than the asking price, a survey has suggested.
The s1homes house price report found the average asking price in the past three months was almost identical to the previous quarter, at £166,386.
But the price fetched by properties fell from £157,197 in the three months to December to £148,764 in the most recent quarter.
This means homes are now selling for about 10% less than advertised.
The "reality gap" three months ago was £9,000.
The report said sellers of flats and terraced houses were achieving marginally above their asking prices.
However at the higher end, the average selling price of a detached house was almost 20% below the asking price.
Across Scotland, most areas recorded an increase in the reality gap.
But Argyll and Bute, East Renfrewshire and Renfrewshire/Inverclyde each saw it narrow marginally.
The gap reappeared in Edinburgh, which had bucked the trend in the previous two quarters.
Mark Smith, managing director of s1homes, said: "After a reduction in asking prices at the end of 2011 and maintaining those prices in the first quarter of 2012, it would appear that buyers are now in the stronger position and are coming in with even lower offers."
Gina Pacitti, from solicitors and estate agents Pacitti Jones, said there were signs confidence was gradually returning to the market.
She said: "There may have been little change in prices in recent months but there has been a marked increase in activity.
"Buyer inquiries are up sharply and we have held more closing dates since January than we have for the last three years.
"For the first time since the start of the recession, we are seeing regular closing dates and properties selling for more than the home report valuation."
Related Internet Links
The BBC is not responsible for the content of external sites.