Dundee dental tech firm 3D extends sales reach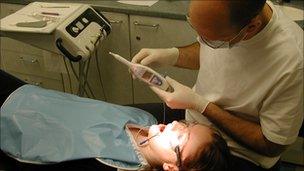 Dental technology firm 3D Diagnostic Imaging has signed a series of distribution deals which will extend its reach into a number of new markets.
It has signed an agreement with Orange Dental to distribute its main product in parts of Northern Africa and the Middle East, and some countries within the former Soviet Union.
The Dundee-based firm has also signed a deal covering the Turkish market.
3D's top product is a hand-held device for the early detection of tooth decay.
The agreement with Orange Dental includes a commitment to purchase a minimum of 60 CarieScan Pro devices and 800 sensors by September.
In March, 3D announced it was seeking a partner in the dental sector after reporting a slump in sales.
Its turnover fell by nearly 90% to £68,000 in the six months to 31 December.
The directors of 3D said they were continuing to explore ways to strengthen the company's balance sheet.
Chief executive Graham Lay said: "We are clearly delighted with the extension of the company's sales reach, but perhaps of more significance is the rising trend in monthly sales that we are seeing so far in 2012, albeit from a modest starting point.
"The company has now sold products into 13 countries and received its first product reorders from three of its distributors.
"There remains much to do but these recent developments are most encouraging."
Related Internet Links
The BBC is not responsible for the content of external sites.